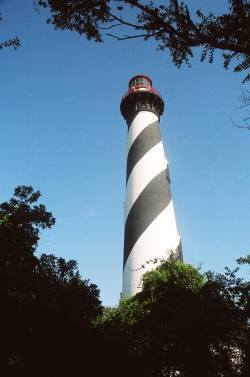 There has been an actual lighthouse on the Florida coast at St. Augustine since 1824, the first in the United States. Made of coquina, Florida shell rock, that structure fell into the sea during a storm in 1880.
Foreseeing such an event, the government by that time had already built a new lighthouse in 1874, the one there today. It rises 165 feet and has 219 steps. The light itself is constructed of prisms, measuring overall at twelve feet tall and six feet wide.
Light keepers, their families and assistants actually lived on the grounds until 1955. From that point on the light became an automated device. You can easily see its brilliant beam sweeping across Matanzas Bay at night and out to sea.
There is a museum onsite run by the Junior Service League of St. Augustine and the Lighthouse Archaeological Maritime Program conducts research on St. Augustine's rich maritime history.
The place is open daily except for major holidays. Click Here for more.
For a photo gallery, Click Here.
Click any of the following for further information on the City of St. Augustine:
A Calendar of Events for St. Augustine