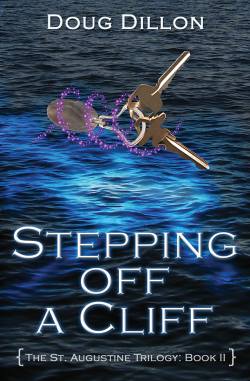 Stepping Off a Cliff: The St. Augustine Trilogy, Book II for Young Adults and Adults Young at Heart. Paranormal & historical.
A review placed on Amazon.com by aly4811.
"Let me just say, I am such a lucky gal! Mr Dillon, you have roped me in again! I am SO in love with this authors writing and story-telling ability. The characters have so much life, as well as the setting.
"All of the historical facts that are brought into play with this book just make it that much more believable, entertaining, and dare I say..real?!
"Stepping off a Cliff starts with Jeff telling his story of what happened after he and his girlfriend Carla were sucked into his ancestors past. It easily slides into the time line. We meet some new and interesting characters and their stories are just as fascinating.
"Jeff and Carla both struggle with attempting to hone their abilities, with the help of Lobo of course, an "old" friend and shaman. The characters compliment each other very well and in the end, goodness must prevail right???? We shall see…
"If you like paranormal mixed with historical significance you'll love this series. I'm excited to see what comes next and perhaps have another opportunity to read and review Dillon's work of art!"
See the book trailer below:
Click here to see this review on Amazon.com.