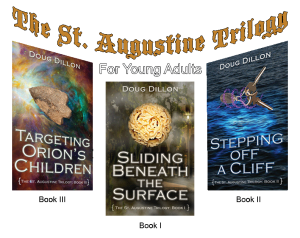 Come join us at Barnes & Noble for this wonderful 2016 event. I'll be there for two of the three days signing books from The St. Augustine Trilogy and talking with visitors.
What a delightful opportunity to be in that historic city where my paranormal/historical book series takes place. The festival has all kinds of great activities for teens running from June 10 -12.
My part in it will be over the weekend as follows:
Saturday, June 11 from 2 – 6 PM
Sunday, June 12 from 2 – 6 PM
The store is located @ 1930 U.S. 1 South. For more information, call them at 905-826-0722.
I'm happy to report that another Florida high school will be using The St. Augustine Trilogy as an extended motivational and skill building activity for its intensive reading program during the next school year.
Click here for a blog post I did about the first school to successfully use the trilogy in a reading classroom.
Click here for more information on The St. Augustine Trilogy.