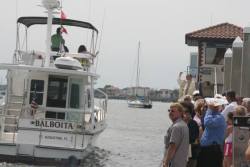 In America's oldest city on Palm Sunday every year, the Bishop of the Catholic diocese blesses the fleet. It's a joyous fun-filled gathering at the waterfront with people coming from all over to just watch or actually participate. For 2012, the date for this event will be April 1.
A time honored tradition since the days when there was a large shrimp fishing fleet in St. Augustine, the blessing is a highly coordinated occurrence involving the city itself and the St. Augustine Yacht club. The bishop blesses them all, from small boats to ships, Catholic and non Catholic alike.
After mass on Palm Sunday, the bishop, parishioners, Knights of Columbus and townspeople dressed as Spaniards from long ago form a procession. It starts at the St. Augustine Cathedral and ends at the city marina. The event usually gets underway around noon and lasts as long as there are boats yet to be blessed waiting in line on the Matanzas River .  The time can vary a bit but the peeling of bells from the cathedral signals that things are about to begin.
There's always a large  crowd of onlookers but if you get there early enough you can definitely find a place to observe and take pictures.
For a photo gallery of this events, click here.
For other information on St, Augustine click on the following:
Full City of St. Augustine Concert Information
A YouTube Concert in the Plaza Video
A Calendar of Events for St. Augustine