On Saturday, October 15, 2011, authors, publishers and book lovers gathered at Deltona's Regional Library here in Central Florida. Sponsored by Friends of the Library, this Authors' Book Fair gave writers a much appreciated opportunity to sell their work and chat with all kinds of people. They even provided two excellent workshops for writers before the doors opened.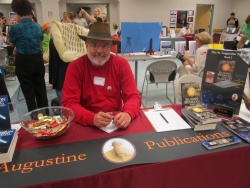 Here's yours truly all set up for business and having a blast speaking with people about writing, St. Augustine and the paranormal.
This was only the second year for the the fair and my understanding is that it will occur once again in October of 2012.
Thanks so much Deltona folks for making us feel so welcome.