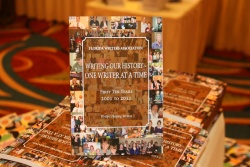 What a great conference the Florida Writers Association (FWA) presented from October 20-23 at the Orlando Marriott Hotel in the city of Lake Mary. Over 500 people attended, making it the biggest such event ever. With over 1,200 members, FWA has indeed become a driving force in Florida's literary arena.
Celebrating its tenth year of existence, FWA published a history of the organization and offered it for sale in the conference bookstore (see above). Since I was a board member at the time of the first conference, and the conference photographer, some of my pictures and stories from that gathering appear in the early part of the book.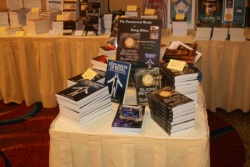 The FWA bookstore was set up beautifully and gave authors a wonderful opportunity to share their work. Here you see my display.
Now, let me say this. Something very extraordinary occurred during our days at the Orlando Marriott last week but that story is much too special to just attach at the end of this blog. Instead, I'm going to create another posting to follow that will relate the story of how FWA and Hospice of the Comforter here in Central Florida come together to help a dying writer. Don't miss this one. It will touch your heart.