Before writing our nonfiction book on the paranormal, An Explosion of Being, my wife Barbara and I visited the Spiritualist community of Cassadaga. Just forty miles or so north of our home in Central Florida, it helped launch us on a way to understanding many things.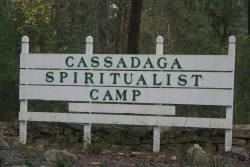 Established in 1894 as the winter headquarters for the Spiritualist Community of Lily Dale, New York, the town today is the oldest active religious community found in the Southeastern United States.
The mediums and healers who live in  Cassadaga generally make themselves available to the public by appointment. A bookstore and information center on the main road through the town serves as the link between visitors and the resident Spiritualists. Click here for that website.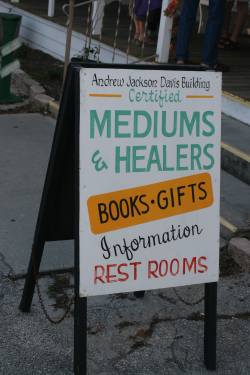 Directly from the official booklet describing this community comes this basic statement of belief: "Spiritualists believe that life continues after death and those who have passed through this transition can communicate with the living through mediumship." Click here for more details.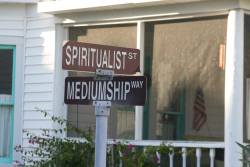 A quiet place, the exact opposite of the giant tourist attractions in the Orlando area, Cassadaga offers visitors opportunities to contemplate, meditate and investigate. What a great combination in this fast paced, crazy world of ours. If you are ever in the Central Florida area, you can't go wrong in visiting this very unique community.
If you are interested in reading more about Cassadaga, you might like to try the book, Cassadaga: The South's Oldest Spiritualist Community, published by the University Press of Florida.
Click on any of the links below for further information on Cassadaga.

Coincidences as Paranormal Events: Cassadaga, FL