Today, we have a special treat. I am interviewing Lou Belcher, the founder and editor of Florida Book News.  A prolific blogger, Lou lives on the Space Coast of Florida and devotes much of her time to getting the word out about Florida writers and artists.
She currently has two books available. One is Ready…Set…Tweet: A speedy guide to Twitter and the other is The Zen of Max (a memoir of great wisdom and many naps).
Doug:  How did you get started blogging?
Lou: First of all, thanks so much for having me as a guest.
I started blogging about three years ago. Before that, I wrote the arts column for Brevard Florida Live magazine.  Essentially I highlighted a different artist from Brevard county every month.  I enjoyed how the attention made a difference in their lives and decided I wanted to figure out a way to do more.
Blogging was just coming to the attention of folks at that time, so I decided to put up a blog that would show what was going on with the artists in the Brevard area. I wanted a place people could go to find an art exhibit or a workshop, etc.   When I purchased the domain name for BrevardArtNews.com, I decided to purchase one for FloridaBookNews.com at the same time, just in case I decided to do the same for writers.
Doug:  Florida Book News is for writers throughout the state, though, not just Brevard county, isn't it?
Lou: That's right.  As a writer, I'm familiar with the writing organizations throughout the state, so I decided to take a wider scope with Florida Book News. Books are not as dependent on traveling to an exhibit as art is.  I can tell a reader about a new book and they can buy it today.  I like to do that for the writers.  This blog is all about giving writers a place to tell others about their books.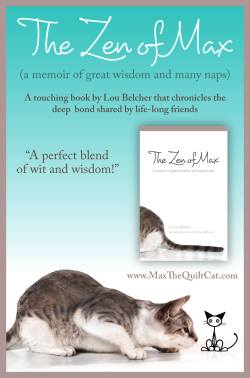 Doug: Great. What other types of things do you cover in there?
Lou: Book festivals, book signings, book fairs, publishing news.  Florida Book News is open to all writers, writer's organizations and book lovers throughout the state of Florida and is read by many people throughout the country.  I post the news as it comes in from Florida authors, publishers and book lovers. And, every Sunday I send out an email notice that the news is up to remind folks to go to FloridaBookNews.com to see what's happening in the Florida book world.
Doug: How do people submit information to you for posting and how can they join the email list?
Lou: They should just email me with the information they want posted. My email address is Lou@LouBelcher.com
And for the mailing list, they should email me and ask to be put on the email list.  It's as easy as that.
Doug: You have several other blogs, don't you?
Lou:  Yes, I'm a little bit crazy. I have six blogs in all. My two most recent ones are TheHelpfulBlogger.com where I post how-to articles on a wide variety of topics and BeforeYouWrite.com, which is designed to bring basic writing/publishing information to writers of all levels.
Doug: Any other blogs on the horizon?
Lou: You never know. For now, I have my hands full.
Doug: Good enough. Thanks, Lou, for all you do for Florida writers and artists.