Pyramids? In a National Cemetery? You bet. Built out of local shell stone called coquina, the three pyramids in St. Augustine cover the remains of 1,468 soldiers  who died in the Second Seminole War (1835-1842). At the end of the war in 1842, the U.S. government collected those remains from battlefields across the state and transported them to this cemetery in northeast Florida.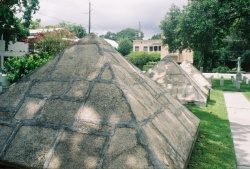 That war began when a large band of Seminole warriors destroyed a force of over 100 U.S. soldiers under the Command of Major Dade at the present day location of Bushnell, Florida. The remains of most of those soldiers are buried beneath the pyramids with their comrades.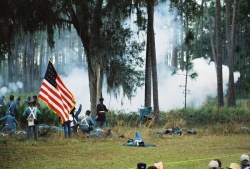 The Seminoles were resisting the government's efforts to relocate all Native Americans west of the Mississippi River to present day Oklahoma. In the end, however, after the loss of thousands of lives, most of the remaining  Seminoles were relocated. Sad as that was,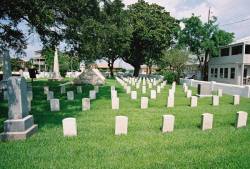 another tragedy occurred as well. After the war, the many African Americans living with the Seminoles as their allies were considered escaped slaves. These Black Seminoles as they were called, found themselves back in bondage.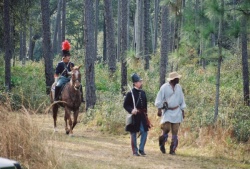 Annually, right after the first of the year, a reenactment of the Dade battle occurs in Bushnell, Florida, offered by the Dade Battlefield Society. It is a very accurate demonstration of what happened on that day in 1835 but it is also a time for everyone of goodwill in attendance to recall how injustice towards any group of people is a knife that rips the very fabric of society and endangers all.
I've  created a number of photo galleries showing both the St. Augustine National Cemetery, Dade Battlefield Park in Bushnell and the reenactment itself. Links to each are below if you would like to see more:
The St. Augustine National Cemetery
Dade Battlefield Park in Bushnell, FL
The Dade Battle Reenactment, Part I
The Dade Battle Reenactment, Part II
Listed below are links to websites that you might also find interesting:
The St. Augustine National Cemetery