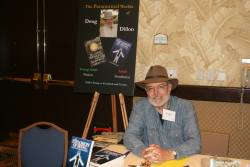 Saturday, April 19 and Sunday April 20
Selling books on the paranormal while talking to librarians from across Florida here in Orlando recently (April 18-19) was wonderful fun.  There were only four of us authors there amongst all the commercial vendors which was great. Two authors at a time shared a table but that inconvenience was mostly overshadowed by our high visibility placement .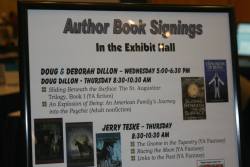 An excellent promotional aspect was a large sign right at the entrance to the exhibit hall in the Wyndham hotel letting people know which authors were available during what days/times and what books they had to offer.Very nicely done except somehow my wife Barbara became Deborah. Barb is co-author of our book, An Explosion of Being. Even so, she seemed to suffer the identity crisis just fine.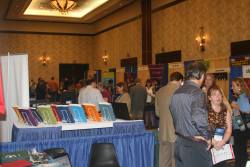 The crowds were good, book sales went well and the FLA staff couldn't have been any nicer or more helpful. Am I going back next year? You bet, if they'll have me.
Any authors looking for a good book selling/promotion event should definitely consider this one for next April. Click here for the FLA website.
Thanks Ruth, Sharon and all the FLA folks! You all are fantastic.