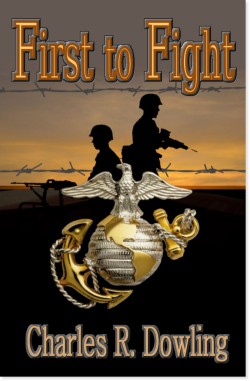 Book Review
Author – Charles R. "Chuck" Dowling
Florida resident
Former Marine Corps officer
Also author of To Keep Our Honor Clean, The Mad Dogs and The Hammer of God Trilogy
Double Edge Press, 570 p.
If you like military history, or you are a fan of the U.S. Marine Corps, this is the novel for you.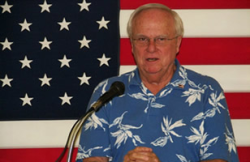 In his book, First to Fight, author Chuck Dowling skillfully interweaves the stark realities of war with the lives of his characters.
From pre-World War II China into World War II itself, and then into the Korean War, Dowling follows Colonel Forrest "Starchy' Glenn as he serves his country with distinction, inspires his troops and fights against the stupidity in the command structure above him. If you want to see a character really come alive and almost jump off the pages and out of the past, give First to Fight a try.
Shanghai, Guadalcanal, Peleilu, Inchon and Hagaru-ri are some of the key locations in this book that will ring bells of recognition in minds attuned to military history. When the battles erupt in all their fury as they inevitably must, Dowling tells it like it was and then some. His words put you right there, living and breathing the action as it unfolds.
Sometimes, you want to look away from the scenes this author has conjured in your mind but you just can't. By then, "Starchy" Glenn, Navy Chaplain Canavan, "Buffalo Joe" Hunter and Eddie "Bean Bandit" Herrera are much too close to you. Through Dowling's words, they have become family and you simply must find out what happens to them and others.
You know, I think one of the things about this book that hooked me into some of its characters were the author's use of letters—the very personal and poignant  words from men at war as they speak their hearts in their letters to wives and girlfriends. Yeah, that had a big impact on me.
It is very evident in First to Fight that Chuck Dowling is a staunch patriot and an unapologetic supporter of not only the Marine Corps, but of all those who fight in the service of the United States. That being said, it is also evident that Dowling decries the senseless loss of lives that wars bring, the lack of skill and wisdom in the world that allows them to happen in the first place, and the idiocy of decision makers during war that needlessly increases suffering.
This is a definitely a book well worth your time.
To find First to Fight online, click here.
To visit Chuck Dowling's website, click here.