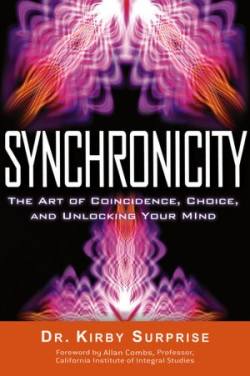 A Book Review
Author – Dr. Kirby Surprise
Doctorate in counseling psychology
Treats clients with psychotic and delusional disorders
New Page Books, 284 pages
An easy to read book that wonderfully simplifies and expands Carl Jung's work in this field. Calling coincidences Synchronistic Events (SEs), Dr. Surprise not only validates these experiences, he also teaches the reader how to work with them. One way he does this is to use his own SEs as examples even as they occur while he is writing a particular portion of the book.
Pointing towards discoveries in Quantum Physics, Dr. Surprise stresses his view that we are multidimensional beings operating in a multidimensional universe. Well schooled in delusional thinking, however, he consistently cautions the reader in assigning specific meaning to the SEs that pop up around us. In order to maintain clarity of thought and action when operating in this arena, he strongly recommends the consistent practice of meditation.
Synchronicity, will be a very valuable tool for anyone wanting to seriously probe the nature of coincidence.
Click here to find this book online.