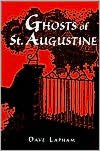 A Book Review
Author – Dave Lapham
Orlando writer & retired U.S. Marine officer
Definitely believes in ghosts
Pineapple Press, 154 p.
Dave Lapham's book is an excellent series of ghost stories from America's oldest and most haunted city, St. Augustine, Florida. Clearly written in an engaging way, Lapham spins these tales out of his own personal research that includes onsite interviews. Careful descriptions of actual ghostly encounters are brought to life by quotes from people who have had their own personal encounters.
Pinpointing specific haunted locations in the old city like the St. Francis Inn, Flagler College, and the St. Augustine Lighthouse, the author shows how the spookiness there is widespread. Using chapter titles such as "Katie's Guardian Angel",  "The Gallant Governor", and "Gateway to Hell", he immediately captures the reader's interest.
If you know St. Augustine, this book might well add a fascinating slant to your previous experiences there that will make you wonder what you missed. If you haven't been to that old city, it just might make you want to pay it a visit.
Click here to find this book online.