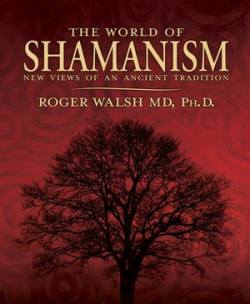 A Book Review
Author – Roger Walsh, Ph.D.
Professor of Psychiatry, Philosophy and Anthropology – the University of California at Irvine
Llewellyn Publications, 325 pages
The World of Shamanism is a comprehensive and clearly written analysis of an ancient tradition. It is truly a new look at an integral part of humanity's spiritual development. Author Roger Walsh takes the reader back to the beginnings of shamanism and it's valuable function within early societies.
Using chapter titles such as  "Devil, Madman, Saint or Sage?", "Cosmic Traveling: The Shamanic Journey", and "Shamans and Psi", Dr. Walsh shows how these ancient holy people collectively advanced the frontiers of consciousness. He looks at their place in more isolated cultures in relationship to the key issues of enlightenment, near-death experiences, death and dying, rebirth, spirits, spirit travel, healing and the use of psychedelics.
Demonstrating the scholarly nature of his research, Dr. Walsh has included detailed end notes, quotations information, an extensive bibliography and a very usable index.
If you are interested in shamanism, this book should definitely part of your own journey.
Click here to find this book online.