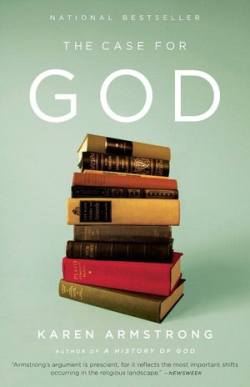 Author – Karen Armstrong
A London-based writer and former nun
Book has been translated into 45 languages
Armstrong has addressed the U.S. Congress and served as an Ambassador for the UN Alliance of Civilizations
Armstrong is a proponent of the Charter for Compassion created by everyday citizens and religious leaders across the world
Alfred A. Knopf, 406 p.
Karen Armstrong is a most articulate author, thoughtful, insightful and precise. In this book, she presents an excellent study on the development of theistic religions and the faith they inspire. Her thesis seems to be that modern religions have gotten away from some of their original core, mystical concepts. In the process, hardcore atheists have unfairly attacked those religions.
Armstrong seems to be trying to burnish the image of God and pull it out of the inaccurate descriptions as made by modern religions. She attempts to cast God in more ill-defined terms, as well she should, but it is unclear if she has helped her theistic leaning with people other than the more studious, intellectual types. The average person seems to want much more concrete and simplified versions of God.
The book is very well written and documented. Armstrong provides excellent end notes, a very nice selected bibliography and very usable index.
Click here to find this book online.
For a review of another book on God, click here.