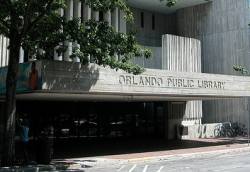 Coming up! I'll be giving a presentation on the paranormal in the Orlando area. Yup, if you're  interested in the spooky and the supernatural come join us. Love to have you be part of the discussion. I'll be bringing copies of my books, An Explosion of Being and Sliding Beneath the Surface.
Barbara, my wife and co-author of  Explosion, will be there with me to also sign books and talk with people.
Here are the event details:
Where:  The Orlando Public Library, 3rd floor in the Albertson Room, 101 East Central Blvd. When: Saturday October 27, 2012 from 11:00 AM to 12:00 PM
The topic expanded just a bit: "The paranormal as a part of life, death and human imagination."
Click here for information on the library and its location.