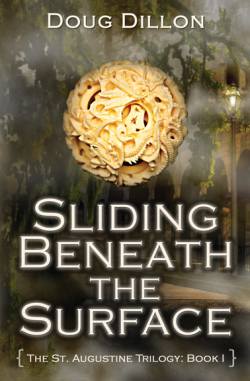 Sliding Beneath the Surface
The St. Augustine Trilogy: Book I
A review placed on Goodreads and Amazon by
Christina from Australia
So this book has it all, out of body experiences, ghosts from the past, a past that could kill those involved in the present, and all done under a dense fog of mystery which will keep you turning the pages to discover what will happen to these children.
The story begins with young Jeff who is having nightmares and horrible headaches. His best friend Carla takes him next door to meet Lobo, a Native American Shaman with a strange and unique ability and mystical powers. Between the three of them they struggle to discover what is causing these strange things to happen to Jeff and to help him solve the problem.
The amount of detail this author put into his writings is intense. The research he did on the St. Augustine Florida area is amazing. It is the perfect setting to a ghost mystery such as this one. I couldn't classify this as strictly a young adult book so I'm making my own category, Historical Young Adult.
I can say I did enjoy the book without a doubt and I personally would recommend this book to anyone from the Middle-school years on up not strictly just Young Adult. I can say that this is an enlightening book about being able to change our path by changing ourselves.
To see Christina's full review on Amazon, click here.