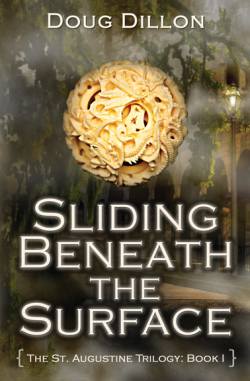 Sliding Beneath the Surface
The St. Augustine Trilogy: Book I
A review placed on Goodreads and her blog by
Erfa Tahir from Pakistan
"Sliding Beneath The Surface is a really original book in the young-adult genre. There's a bit of everything: history, paranormalcy, superstition, even romance.
"The plot revolves around the legend of St. Augustine. This was the first time I came across the legend and I thank Doug Dillon for putting in so much research and presenting the myth so excellently in his book. It is commendable.
"Jeff Golden is the fifteen year old main character, Carla Rodriguez is his spunky friend for whom he happens to have feelings, and Lobo is the shaman who appears tough and scary initially but eventually reveals the wise side of himself.
"The shamanism aspect of the novel really delighted me because I have never come across it before. As you can see, Sliding Beneath The Surface provided a really refreshing reading experience. It was not stereotypical as many young adult books these days. The plot was very original and interesting, and I think Doug Dillon did a great job in writing it.
"Sliding Beneath The Surface was a very good read that I personally enjoyed… I recommend it to not just young adults, but kids and adults as well."
To see Erfa's full review on Goodreads, click here.