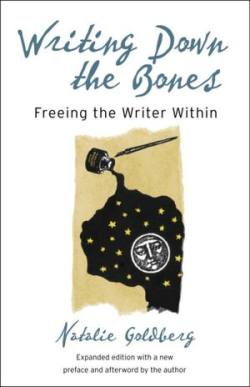 A Book Review
Author – Natalie Goldberg
A long-term Zen practitioner , Goldberg has taught seminars in writing as a spiritual practice
Book has old over 1 million copies and has been translated into 12 languages
Shambhala, 200 p.
Writing Down the Bones has been around for a long time but it is still a classic guide for writers. Following her Zen philosophy, Goldberg offers what she calls an "uneducation process" to her readers. Essentially, this is method of throwing out the old rules in order to stimulate creativity. Just in how she presents her own ideas she continuously demonstrates how this outlook actually works for her.
Immensely readable, Goldberg merges Zen meditative outlook with the craft of writing. With wonderfully named chapters like, "Man Eats Car", "Beginner's Mind, Pen and Paper", and  "Tap the Water Table", she stimulates the reader not only to keep reading but to look at how they deal with words. In this short book, they are sixty such chapters which shows they are definitely bite-sized.
Natalie Goldberg is the ultimate "Writing Cheerleader" who helps writers to not only realize their innate talents but to unleash them from an inner spiritual perspective as well.
Click here to find this book online.