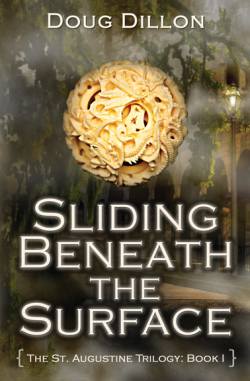 Young Adult, Paranormal and Historical.
The St. Augustine Trilogy: Book I
A review placed on Goodreads, Amazon, Barnes and Noble and Library Thing by Isis from Vermont
"I just finished reading the first volume of The St. Augustine Trilogy, Sliding Beneath the Surface,and must say I was impressed.
"The storyline caught my attention early on and kept it for the remainder of the book, increasing in intensity as we drew toward the conclusion.
"This creative YA book is told from the point of view of a teenager – but a boy this time. Jeff moves to a new town thanks to his father's gambling problems that basically wiped the family out financially.
"One of the first friends he makes is Carla, who happens to be black (nice to see a bit more diversity in a YA book today – if you don't count paranormal diversity that is). Carla introduces Jeff to Lobo and this is where the story really starts moving, maintaining a decent pace throughout.
"Aside from some minor allusions to romance, at its core this is a story about discovery – both internal & external, plus beginning to learn his own boundaries and what he is capable of.
"The end of the book was good, and could probably stand alone, but left me wanting to know more of what happens, and to learn right along with Jeff & Carla.
"I found this story entertaining and a solid read. Not only is it a good read for those in the YA category, it also has the 'legs' to cross into tradition fiction. That being said, I would still list it in the YA section of any library."
To see Isis' full review on Amazon, click here.