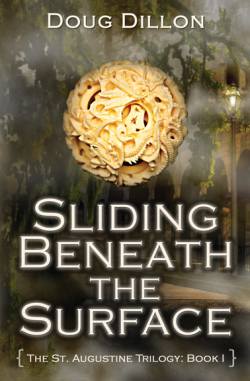 Sliding Beneath the Surface
The St. Augustine Trilogy: Book I
A review placed on Goodreads and Amazon by Ariel from Tennessee, USA
"Sliding beneath the surface is another one of those books that really stands out, to me at least, as an original piece. Doug Dillon does a great job incorporating history of St. Augustine into this book, and let me tell you…I'm not one for history…But he made it interesting. Of course, I'm not sure how much of it is actually true??
"Following Jeff Golden, you see this story as told from his perspective. And boy was Dillon right on the money in portraying a 15 year old's mind!!
"Through this series you learn about Jeff's past, Carla's past and Lobo is kind of their guide through their "now" journey. The weird dreams, the alternate realities, copied images of people that they make themselves, ghosts, shaman's…and the list goes on. This book keeps you on your toes every step of the way.
"I loved Sliding Beneath the Surface and I believe that people who like ghost stories and paranormal books will too! Give it a try, Dillon won't let you down!!"
Click here to find Ariel's review on Amazon.