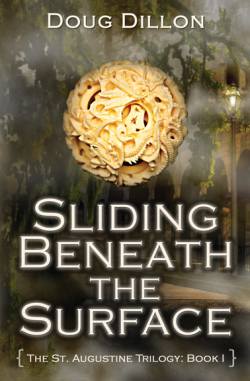 Sliding Beneath the Surface
Young adult, paranormal and historical
Wow! My friend and assistant, Julia Hendrix, has set me up with a fantastic blog tour for early 2013.
Check out the 15 scheduled tour stops below and visit the wonderful bloggers she has lined up.
At each blog location, Julia and the blog host will be giving away a copy of my book and all kinds of author swag. There will also be an opportunity for some people along the way to win a copy of my nonfiction book titled, An Explosion of Being: An American Family's Journey into the Psychic.
Visit Julia at our official St. Augustine Trilogy Facebook fan page

and you'll also see two very special events involving some gorgeous prizes. If you have any questions, contact Julia at dougdillonassistant@gmail.com.

Schedule of Tour Stops
1. January 8th , Tuesday, Christina Irelan Intoxicated by Books
2. January 9th, Wednesday, Jennifer Martinez Books, Brownies & Barkers
3. January 10th, Thursday, Alice Friday Best Books
4. January 11th, Friday, Jean Vallesteros Jean BookNerd
5. January 12th, Saturday, Samantha Atkin Passionate About Books
6. January 13th, Sunday, My Home Away From Home (MHAFH)
7. January 14th, Monday, Cynthia Shepp Cynthia Shepp
8. January 15th, Tuesday, Airicka Phoenix Airicka Phoenix
9. January 16th, Wednesday, Jennifer Moody Addicted 2 Book Reviews
10. January 17th, Thursday, Samantha Truesdale Mom of 2 Book Reviews
11. January 18th, Friday, Cassie Chavez Sassie Cassie's Reviews
12. January 19th, Saturday, Bella Colella Paranormal-bookclub
13. January 20th, Sunday, Julia Hendrix, As You Wish Reviews
14. January 21st, Monday, Stephen Ormsby Ideas Captured
15. January 22nd, Tuesday, Heather Almendarez Readers After Dark