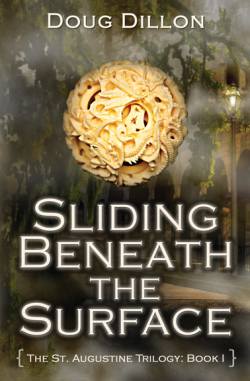 Sliding Beneath the Surface
The St. Augustine Trilogy: Book I
A review by Dixie from California
"Sliding Beneath The Surface," refers to a concept that there are many Worlds within worlds, in layers, as Shrek says, 'Like an onion.'
"This book centers on two teenagers and their adult mentor with unique abilities to split themselves and experience more than one layer at a time.
"There is a real, historical battle that they are connecting to, which is less well known, but similar to the battle of the Little Bighorn, and you can check the facts and find pictures if the Dec. 28, 1835 battle of Major Dade in Florida interests you. Doug Dillon did his research on that event very well.
"There are several different elements combined uniquely in this book that make it a blend of genres. It is Historical-fiction, spiritual, paranormal, Young-adult with a touch of magic and time travel. It is fun and well written and easy to get sucked into. It reminds me a bit of the mentor/youth relationships in "Free Willie" or "The Karate Kid."
"It has the spiritual touch of "The Shack," or "Orange Petals in a Storm." There are characters you will come to care about and a sense of humor and playfulness and morality woven through the book.
"Would I recommend this book to you? Yes, if you have an open mind and don't mind getting a bit off the standard genre paths…a book I very much enjoyed and might just read again someday."
Click here to see Dixie's full review on Amazon.