A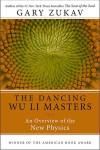 Book Review
Author – Gary Zukav
Author of The Seat of the Soul
For this book, Zukav won the American Book Award for Science
Harper One, 416 p.
This is an older book one well worth reading. A skillful writer, Gary Zukav explains the basics of quantum physics in everyday terms. Just looking at several of his chapter titles will give you a flavor or how he approaches this topic: "Big Week at Big Sur"; "Einstein Doesn't Like It"; and "The Particle Zoo".
To help the reader in the beginning, Zukav offers readers not only a regular Table of Contents, he also includes a secondary Contents section with sub-topics. As if that weren't helpful enough, he adds what he calls, A List of Characters. This includes names of scientists, particles and theories. A great guide to what's coming.
At the end of the book, the author includes detailed end notes, a bibliography, a very usable index and finally, a fold-out chart of subatomic particles. If you really want to make preparations for reading Zukav's explanations, take a a quick glance at all that back matter.
Click here to find this book online.