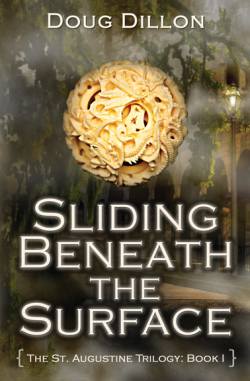 Sliding Beneath the Surface
The St. Augustine Trilogy: Book I
A review placed on Goodreads and Amazon by
Nichole
"Doug Dillon did a wonderful job with this book. He has a good eye for detail and establishing characters who will not soon fade from my mind. We meet Jeff Golden who is basically an orphan. His father has passed away and his mother is too wrapped up in her world to know what is going on with her son.
"Jeff has an accident and ever since the accident he is plagued by the same nightmare night after night. His feisty friend Carla decides she will help Jeff by introducing him to her old Indian friend Lobo.
"Lobo has many secrets and has the capability of knowing others secrets. Lobo leads Jeff and Carla on their supernatural time travelling chaotic experiences with their dead relatives.
"Doug Dillon has me hooked! I really enjoyed this book it had everything going for it. Who wouldn't love a book with a history lesson, Ghost, supernatural powers, and slipping into different worlds?"
To see Nicole's review on Amazon.com, click here.