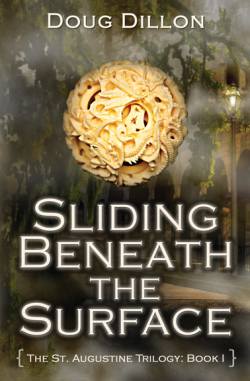 Sliding Beneath the Surface
The St. Augustine Trilogy: Book I
A review by Lissette from El Salvadore
Thanks to Doug Dillon for the awesome opportunity to read this book!
This is one of those books that's … so perfectly structured with romance, paranormal, history, suspense and more that you can actually enjoy it. I love things to be described thoroughly because you get a major view of the story and is easier to be part of it.
Jeff and Carla, both teenagers, it was credible how they develop as the story goes. Doug captured the voice of a teenage very well.
Mr. Jeff Golden (yes, it's "that" tone haha) is having nightmares, but not the normal ones, when Carla, his "crush" finds out about this, she decides to go and look for Lobo's guidance to help Jeff. Their journey is full of time traveling, ghosts and you can't help your heart race be as fast as long the story comes unfolding.
One thing: Chinese puzzle balls (like on the front of the book). So cool, I want one!
Are you a lover of ya paranormal stories about ghosts, with suspense and a little bit of romance? Definitely you should read this book!!!
Click here to see Lissette's review on Amazon
Click here to see the review on Lissette's Blog in both English AND  Spanish.