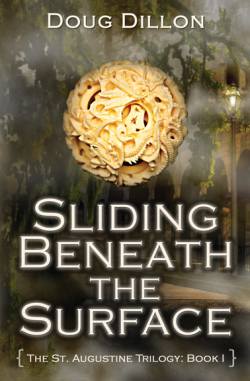 Sliding Beneath the Surface
The St. Augustine Trilogy: Book I
A review placed on Goodreads and Amazon by Michelle from Idaho
"Amazing read!!! I was astonished by this debut novel and can't wait for the second installment!
"Doug Dillon takes us on a ride through a paranormal world full of ghosts, psychic events, and spine tingling moments. Jeff and Carla go on the journey of their lives as Jeff learns to trust the Shaman, Lobo, to help him break through the reasons behind his massive headaches. What he discovers is a foreshadow for something much deeper in his life.
"I love the history weaved throughout the story line and the use of St. Augustine, apparently known for being one of the oldest cities located in the US. Reading this book not only gave me great entertainment as I was compelled to turn page after page, but I also have a desire to visit this city and experience the area myself.
"I also enjoyed reading this from a young mans point of view, especially when he broke free from the 'story line' to address the reader. This change in pace was a daring yet refreshing change.
"This book is a YA paranormal, but readers of all ages will enjoy this compelling read. I will definitely be waiting for the next installment and have added Doug Dillon to my list of authors to watch for!"
Click here to see Michelle's full review on Amazon