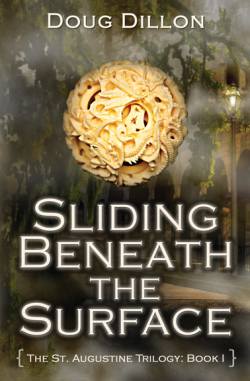 Sliding Beneath the Surface
The St. Augustine Trilogy: Book I
Young adult, paranormal and historical.
A review by Jillian on her blog, Goodreads and Amazon.
Sliding Beneath the Surface is a creative mix of Florida history and the supernatural.
"Readers should note this is not your typical YA paranormal book. I feel like Sliding Beneath the Surface is more supernatural than paranormal; it explores the idea of reality, how to move into other realities, how people in other realities can affect you, and how to control your own thoughts, actions, and destiny.
"It's very intellectual. In fact, you could wonder if the whole thing is in Jeff's head, except for some physical evidence he brings back from his journeys into other realities.
"Overall, Sliding Beneath the Surface is an intriguing and thought-provoking story of the supernatural. There are some really exciting moments that lovers of ghost stories will tear through, as well as action scenes that history buffs would appreciate. It's a solid introduction to the series and I'm interested to see where the story goes from here."
Click here for Jillian's complete review on her blog
Click here for Jillian's complete review on Amazon