S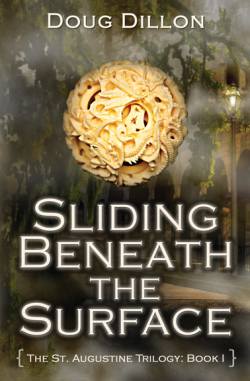 liding Beneath the Surface
The St. Augustine Trilogy: Book I
A review placed on her blog, Goodreads, Barnes and Noble and Amazon by author Pam Funke.
"Sliding Beneath the Surface is not my typical read, but I must say that Doug Dillon certainly has a way of capturing your attention and drawing you into the book.
"I liked how Doug not only introduces you to the characters but pulls you in as though you were old friends. I enjoyed getting to know the main characters Jeff, Carla and Lobo. Lobo, I must say makes you think of the old coot that you knew from your childhood. Every town has one. It's pretty creepy how he seems to know things before they happen and what someone is thinking.
"Without giving anything away, there were some pretty strange occurrences that happen throughout the story.
"Sliding Beneath the Surface is a combination historical fiction story crossed with something out of the paranormal.
"This is a book was nothing short of extraordinary. Doug pulls you right into the story from the very first chapter and keeps you until the very end. He has an incredible story-telling ability and writes an incredible yet interesting story. I look forward to reading more books by Doug. If you enjoy reading a good book, I definitely recommend reading this one."
Click here to see Pam's full review on Amazon.
Pam is author of The Four Horseman Series.  Click here for Pam's blog spot, her full review and find out about her series.