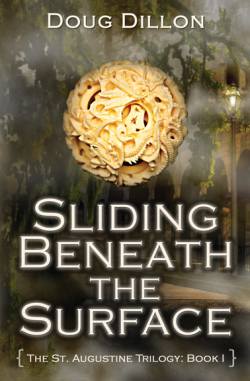 Sliding Beneath the Surface
The St. Augustine Trilogy: Book I
Young adult, paranormal & historical
A review placed on Amazon  by Diana Murdock.
I've been reading a lot of YA books lately and was getting a little burned out. I had filled my Kindle with other genres to start on but had wanted to get to this one before jumping the fence to the genres. I'm sooo happy I did. It did take me until the second chapter to really get into the story and after that, it picked up speed. I'm all about metaphysics and past lives and such, so this book filled that part of me to complete overload – in a good way, of course. The characters, I felt, were believable and well fleshed out. The story line of souls being trapped in their own past, reaching out to the living for help was brilliant. I've since passed this on to my children, and for me to do that, knowing how particular they are… well, I was confident they would love the story as much as I did. I would totally recommend this for everyone!
Click here to see Diana's review on Amazon.