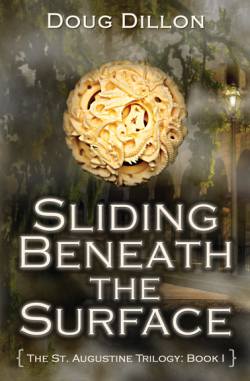 Sliding Beneath the Surface
The St. Augustine Trilogy: Book I
Young adult, paranormal & historical.
A review placed on Amazon by Cheree Crump (Dragonmoma) from South Carolina
"Sliding Beneath the Surface is a story I can't wait to share with my son (12y). I know he will enjoy it as much as I did and learn something in the process. Doug did an amazing job detailing true events in history and their current locations. This story is based in St. Augustine Florida, I am now wanting to plan my next trip there to explore the real places that are noted.
"The main character Jeff is hilarious even when he is freaking out. If I wasn't laughing I was saying OMG that can't be happening, then laughing again at something else that was said or done soon after. Carla, his friend, helps him get to the root of his problems when Jeff starts to have painful constant headaches and dreams that won't go away. She brings him to her friend Lobo (an old Native American Shaman)who seems mean and rude, but leads Jeff down a path that will uncover the puzzle behind his troubles.
"The story is written in Jeff's POV and the story is well written from beginning to end. I am eagerly awaiting the next book in the series to see what adventure Jeff and Carla embark on next."
To see Dragonmoma's review on Amazon, click here.