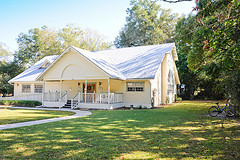 2013 public presentation #1 by Doug Dillon titled:
"Mixing the Paranormal and the Historical in St. Augustine, Florida."
Part of Viva Florida 500, celebrating 500 years of Florida History
Thursday, February 21, 2013 – 7:00 pm
A free presentation of the Lake Helen Library, Lake Helen, FL. A branch of the Volusia County Library System.
Near the Spiritualist town of Cassadaga, FL . Lake Helen is nicknamed, "The Place Where Mayberry and The Twilight Zone Meet."
Event location:
Hopkins Hall. This meeting place is across the street from the Lake Helen Library library which is located at 221 N. Euclid Ave.
Program Description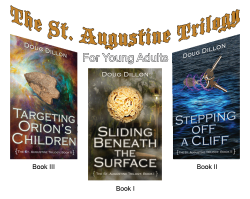 Come join Orlando area author, Doug Dillon, as he discusses his book series titled, The St. Augustine Trilogy, and the roads he traveled to make it happen. Find out how he used his own experiences and extensive research to create a fictional blend of the paranormal and actual Florida historical events for young adults and adults young at heart. Doug is also the author of the nonfiction book, An Explosion of Being: An American Family's Journey into the Psychic.
An award winning former educator, Doug has written for Boys' Life magazine, Prentice Hall, Mitchell Lane Publishers, Harcourt and the Orlando Sentinel.
A book signing will follow the presentation.
Click here to connect with the Lake Helen Library.
Click here to learn more about Viva Florida 500.