2013 public presentation # 5 by Doug Dillon, titled:
"The Haunted Past of St. Augustine, Florida."
With author Dave Lapham.
This free event is part of Viva Florida 500, celebrating 500 years of Florida History
Saturday, April 27, 2013 – 2:30 pm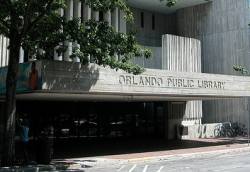 Orlando Public Library in the Albertson Room, 3rd floor
101 East Central Boulevard, Orlando, FL
The main, downtown branch of the Orange County Library System.
The Program
Authors Doug Dillon and Dave Lapham will take you deep into little known stories about America's oldest city. Tales of ghosts, hauntings, pirates and monsters abound when Dave and Doug get together so don't miss this fascinating mixture of the paranormal and historical.
Former educator Doug Dillon is author of The St. Augustine Trilogy for young adults and adults young at heart, Class Trip to St. Augustine and the nonfiction book, An Explosion of Being: An American Family's Journey into the Psychic.
An award winning former educator, Doug has written for Boys' Life magazine, Prentice Hall, Mitchell Lane Publishers, Harcourt and the Orlando Sentinel.
Dave Lapham is the popular author of best-selling Ghosts of St. Augustine, Ancient City Hauntings, and  Ghosthunting Florida. He has also published numerous magazine articles and has appeared on radio and television. Dave is currently working on three novels and a nonfiction book about paranormal investigators.
A book  signing follows the program.
Click here for more information on Dave Lapham.
To learn more about Viva Florida 500, click here.
To connect with library, click here.