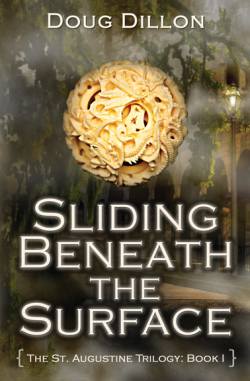 Sliding Beneath the Surface
The St. Augustine Trilogy: Book I
Young adult, paranormal & historical
A review placed on Goodreads and Amazon by Tina from
"Sliding Beneath the Surface is a very unique story filled with rich history, mystery and paranormal features. It only took me a few chapters before I was totally immersed into Doug Dillon's world. Once I started to connect with the main characters, I couldn't put it down.
"Jeff Golden, a troubled 15 year old, moves to St. Augustine Florida. He begins suffering from excruciating headaches and terrifying nightmares. Desperate for relief, he confides in his friend Carla Rodriguez. Lucky for Jeff, she introduces him to Lobo, her Native American and somewhat eccentric neighbor. Together they unlock the source of Jeff's troubles and find they are linked to the past. Can they help Jeff to find peace or will he be swallowed whole by the chaos that lurks beneath the surface?
"This story is filled with detailed descriptions of St. Augustine. I had no problem visualizing Jeff's adventures through the city. I am anxious to see what the author does with the next book in the trilogy. I will be reading it!!"
Click here to see Tina's review on Amazon.