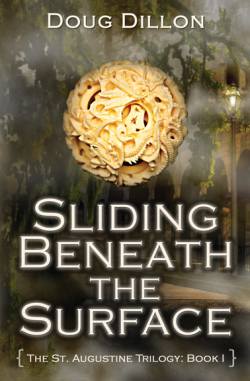 Sliding Beneath the Surface
The St. Augustine Trilogy: Book I
Young adult, paranormal & historical
A review placed on her blog, Goodreads and on Amazon by Cassie Chavez.
"This book was like no other it is a whole new world of something! I couldn't really put in words how crazy it was! The things that happen in this book is unbelievable but you get to the point where you think in your brain "this could maybe happen" it may or may not be possible but it sure does mess with your head. This books have twists, turns, ups, and downs. It's a whole new crazy and I guarantee you'll love it! I usually don't read books like this but I am very glad I did. I can't wait to see what book two has in store for me!
"What I loved most is that this book grabs you in and takes you hostage to tell you a story it makes you want more and it is so unique and one of a kind. I can honestly say that this book is something you will read and probably not come across in any book!
"Jeff – He doesn't believe what is right in front of his face! He has a great building of character but man if it was me I would literally "knock" some sense into his head! He is too logical, like myself but unlike me he doesn't believe in things that can actually exist. I enjoyed his character and his silly ways of thinking. He does have a temper on him too.
"Carla – she is very logical too, the thing is, she was raised in the world to believe because it was brought on at such a young age that she had no choice. She is strong willed and controlling and I love that in female leads it makes them so much more fun! She is an awesome chick that could do so much in the world."
To see Cassie's full review on her blog,  Cassie's Reviews De-La-Mazing, click here.
To see Cassie's full review on Amazon, click here.