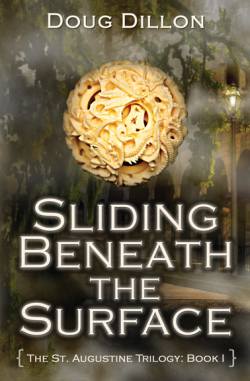 Sliding Beneath the Surface
The St. Augustine Trilogy: Book I
Young adult, paranormal & historical
A review placed on her blog, Mom of 2 Book Reviews, by Samantha Truesdale.
"In the book we meet 15 year old Jeff Golden, or "Golden Boy" as some like to call him. His life started to fall apart when his mom moved their family from Orlando to St. Augustine. Lately some really strange things have been happening. He keeps having a horrible nightmare that seems to real for comfort and the number 28 seems to be showing up everywhere he looks. His friend Carla, a 15 year old Native American girl, says she has a friend that may be able to help with his problem.
"Carla takes Jeff to meet Lobo, and he is definitely not what Jeff was expecting. Jeff is told he must do things Lobo's way, or he won't help. Jeff will be introduced to a whole new world he could never believe even existed. How will Jeff handle all of this? Are the signs around him really as dangerous as Lobo claims? Will he be able to overcome and solve all of the puzzles around him?
"I enjoyed this book from the first time I opened it. I loved Jeff's character. I think Dillon did an awesome job of capturing the mind of a 15 year-old boy. I loved reading the scenes and laughing out loud while Jeff was freaking out. I enjoyed the friendship between Jeff and Carla. I also enjoyed learning about Lobo."
To see Samantha's review on her blog, click here.