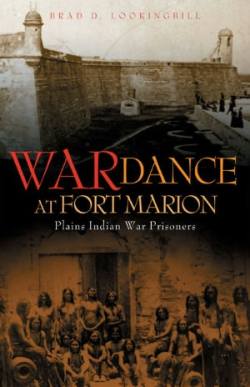 A Book Review
Author – Brad Lookingbill
A Native American and Associate Professor of History at Columbia College, Missouri
University of Oklahoma Press, 290 p.
Brad Lookingbill's book  is a gift to lovers of U.S. and Native American history everywhere. Carefully researched and brilliantly expressed, the author details the incarceration of Kiowa, Cheyenne, Comanche and Arapaho chiefs and warriors at Fort Marion in St. Augustine, Florida from 1875 to 1878. Known as Fort Marion in those days, the place has since reverted to its original Spanish name, the Castillo de San Marcos.
This book is the first to fully tell the very personal stories of some of the last Native Americans to fight against the United States. Using Native American accounts and drawings, as well as military documents, the author presents a very honest and balanced view of what happened to these prisoners over a three-year period.
Lookingbill doesn't pull any punches as he describes the suffering endured by these chiefs and warriors as they struggled to maintain what they could of their own cultures. From their capture to their final release, the author details how the prisoners adapted to white culture, became a tourist attraction in St. Augustine and and eventually ended up as trustees of their own incarceration.
This is a story of human survival and valor in the face of crushing odds. How fitting that is told by a Native American.
Great illustrations,  a detailed appendix, end notes, a bibliography and a helpful index speak to scholarly effort Brad Lookingbill gave to this work.
Click here to find this book online.