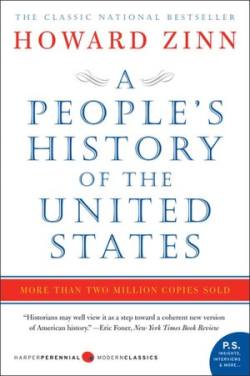 A Book Review
Author – Howard Zinn
Before his death, Howard Zinn was a historian, playwright and social activist
Well over  1 million copies sold
Harper Perennial, 729 p.
In this book, Howard Zinn created one of the most readable and valuable descriptions of U.S. history ever written. Told not from the view of the power elite, it is as the title says, a history of the America's everyday people. This is truly the "flip-side" of history as we know it and long overdue.
These are the stories of Native Americans, women, factory workers, African Americans, the working poor, war resisters and immigrant laborers. The secret bombings, cover-ups, massacres and the suppression of minorities—it's all there, backed up with statistics and quotations.
I learned so much from this book that  I wish I had it available to me in the days when I was teaching history. Yes, 700+ pages is a lot but taken in small chunks over time it makes for fascinating and informative reading.
Click here to find this book online.