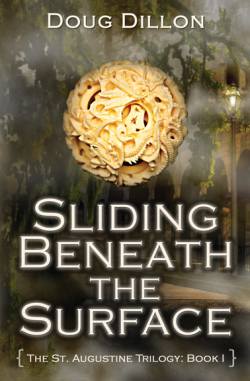 Sliding Beneath the Surface
The St. Augustine Trilogy: Book I
Young adult, paranormal & historical
A review placed on Amazon & Goodreads by Memphis-Taylor.
"I loved Carla as a character. She was modern and down to earth, but very old fashioned in the way she spoke and carried herself. And she just didn't care about what anyone thought as long as they were being good people haha she cracks me up! Very lovable and a relatable character.
"The imagination this author has is outstanding! His use of imagery is unique and inspiring. I loved the bit about the eyes and the window and the Ball of Realities.
"The author also does a phenomenal job of painting out what he wants you to see and boy oh boy does it make an impact! Wonderful! Lobo… gotta love Lobo! What story is complete without a salty-dog type of leader? None, I tell you! Another great character.
"The author is also very good at detailing and scene setting. The war scene was intricate and realistic as well as the description of St. Augustine.
"Overall, a great novel… I would definitely recommend this diamond in the rough to anyone, especially history, supernatural and philosophical buffs."
To see the full review on Amazon, click here.