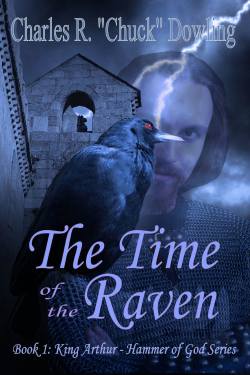 A review
 Book I of the King Arthur-Hammer of God Series
Author: Charles R. "Chuck" Dowling
• A former Marine officer and businessman
• Author of the Chosen Few series about the U.S. Marines in the Korean War
Book published by: Double Edge Press
Number of pages: 509
 The Review
If you like King Arthur stories, you'll love this one. Chuck Dowling has created a fictional masterpiece here about Arthur's childhood and he has set it in the time soon after the Romans left England.
The book's title, The Time of the Raven, refers to Merlin, the ever-present, mysterious and dynamic force behind making certain young Arthur becomes the warrior king who will eventually unite the Britons and lead them in conquering the barbaric invaders.
In this brilliant work, Arthur, Merlin, Guinevere, and Lancelot all come vividly to life in a time of incredible chaos, treachery and brutality. These characters and many others stand out in such wonderfully etched forms you would believe Mr. Dowling had known them personally.
The writing in this book flows smoothly and clearly, constantly pulling you headlong onto the next page and into the next chapter. This story is beautifully descriptive, intense, gritty and definitely exciting. But at the same time, it shows a depth of thoughtfulness in the main characters that makes them seem like very real people indeed.
Dowling takes a very complex historical period and somehow manages to not only make it interesting, but he also ends up deftly educating the reader. If you don't know very much about England just after the Romans left, you will by the time you finish this book. The research that went into this work had to be extensive but the author uses it as a fascinating backdrop that never overwhelms.
When I finished The Time of the Raven, I definitely wanted to read more. It lay such a perfect base for the legendary adult King Arthur that I can't wait to see how Mr. Dowling puts his unique spin on Book II of the series that is titled, The Time of the Eagle.
To find this book on Amazon.com, click here.
To see the author's website, click here.