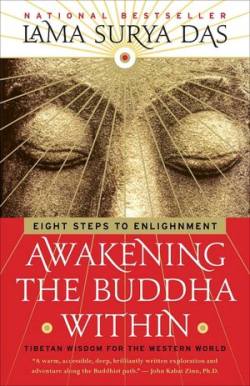 A Book Review
Author – Lama Surya Das
Creator of the Dzogchen Foundation
He leads Buddhist meditation retreats worldwide
Broadway Books, 414 p.
Written by an American who became a Tibetan Lama, this book gives readers a solid course in Buddhist concepts. Giving clear step-by-step explanations, the author uses an engaging and even humorous tone that makes him as much of a friend as he is an expert in this field. His stories are wonderful and very instructive.
The steps mentioned above are actually the Buddhist Eightfold Noble Path to enlightenment but greatly expanded upon. Lama Surya Das continues to enlarge his explanations with the following 3 important sections that are valuable "how to" guides:
Wisdom Training
Ethics Training
Meditation Training
These chapter titles are examples of how the author continually points out to the reader that they already have the knowledge he is telling them about: "Seeing Things as They Are", "Plumbing Your Wise Buddha-Nature", and "Keeping Your Eyes Open". Surya Das is, he says, simply helping people to unveil the "Buddha within."
Click here to find this book online.