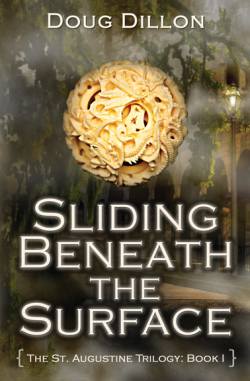 Sliding Beneath the Surface
The St. Augustine Trilogy: Book I
A review placed on Amazon.com by Stephanie from Kentucky.
"Let me start off by saying that this book grasped my attention in a way that caught me off guard. While I have read a few historical fiction, this was in a league of it's own. It wasn't a historical fiction at all. What I mean is it had loads of history packed in the pages.
"I learned a great deal about the Dade battle that I didn't know anything about before. I knew going in that St. Augustine was the first American city, but other than that I didn't know a lot else. Didn't know about the battle that went on and all the lives lost. I loved the way that it was brought about too. It meshed well with the story without feeling like I was reading straight from a history text book.
"I really enjoyed the whole concept of worlds within worlds. What I couldn't seem to enjoy was the main character, Jeff Golden. I thought maybe at first I couldn't get into him because I read more books with female protagonists but for some reason I couldn't wait til there was someone else there besides him. I did appreciate that it read like an actual teenage boy would have wrote it.
"I LOVED Lobo. Like almost have an infatuation with him. I dig Native America studies and especially the fact of him being a shaman. Not to mention his no nonsense attitude on everything, I swear if it hadn't been for him Jeff wouldn't have made it. Same goes for Carla I really enjoyed her character and how she carried herself. I think she can do better than Jeff, but that's solely my opinion. There wasn't much of a romance aspect here anyway which was nicer than I thought. Jeff and Carla care deeply for each other but their 'love' didn't take up the whole story like with a lot of YA books.
"I also love how Jeff never looks at Carla or Lobo because of their different races. Although it was a factor in the battle that is talked about, it, to me, shows how far we have come as a country and the equality there is now that was nonexistent in the early 1800's.
To see the complete review, click here.