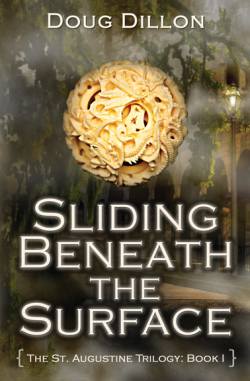 Sliding Beneath the Surface
The St. Augustine Trilogy: Book I
Young adult, paranormal & historical
A review placed on Amazon, Goodreads & her blog by Megan from Georgia.
"Sliding Beneath the Surface was a well written story about 15 year old, Jeff Golden. The story takes place within a 24 hour period as Jeff's friend Carla takes him to visit a Native American man to help with some of his strange experiences.
"Jeff was experiencing paranormal phenomena that affected his dreams and was causing him headaches. The Native American, Lobo, though tough and firm, helped Jeff open his mind to the paranormal in order to understand and solve his problem.
"Sliding Beneath the Surface took place in the city of St. Augustine and was rich with history. The contact Jeff experienced was related to a historical battle and Carla's knowledge of history was helpful to Jeff, along with her own connections to the people in the battle. I loved the bits of history intertwined within the story.
"I liked Jeff's character. He was the kind of kid who got himself into trouble, had an attitude along with an overall distrust of adults, and yet he tended to be a good friend. I thought his character was well rounded and reflected what real teenagers can be like quite well in this aspect. He was a great narrator because his voice really inserted itself into the story, but he was able observant and skeptical.
"I also liked Carla because she wasn't afraid to be smart and outspoken. Lobo fit into a stereotypical Native American shaman persona, but I loved how he was so knowledgeable and he didn't take any excused from Jeff or Carla. He was set in his ways, but I felt like he offered valuable help and life lessons.
"The book followed Jeff's 24 hour journey into understanding what was happening to him from a paranormal aspect. I don't want to give any of the plot away, but it was interesting, detailed, and full of rich history. Because Jeff was a skeptical kid, his journey was of all sorts, spiritual, mental, and physical.
"Through understanding and opening his mind to extra possibilities, lots of other helpful lessons in life were learned. I loved the lessons about life in the book and I thought they were the kinds of things troubled kids should learn. This was one of my favorite aspects about the story, aside from the historical parts.
"A story this well written, detailed, and historical with a wonderful narrator… Overall, I enjoyed Sliding Beneath the Surface and I would recommend it to others. I loved the overall themes about life and thought it was a wonderful coming of age adventure.
To see Megan's full review on Amazon, click here.
To see Megan's full review on her blog, click here.