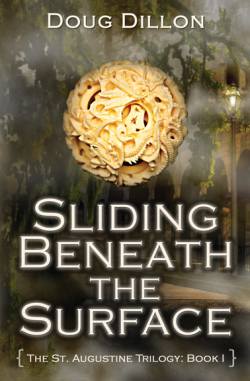 Sliding Beneath the Surface
The St. Augustine Trilogy: Book I
Young adult, paranormal & historical
A review placed on Amazon by Dawn.
"This book has it all, mystery and suspense, paranormal phenomena, history, and even a little bit of teenage romance!
"The story is set in St Augustine, Florida, a city rich in history! It starts out with a teenage boy named Jeff who starts having disturbing, paranormal dreams which he discusses with his friend Carla, a gutsy and courageous young girl. Carla knows why Jeff is having these dreams and brings him to see Lobo, a native American Shaman.
"Lobo helps Jeff to open his mind to paranormal activity. Jeff learns that his ancestor Walton, who died in the Battle of Wade, has not moved on. He comes to Jeff in spirit form. Jeff is forced to embark on a journey to another dimension (a world within a world) to help save his ancestor.
"This locations and characters in the book are so richly detailed it's like you are right there in the middle of it all! I don't want to give too much of it away so I am suggesting that you read it and find out for yourself what happens in the end! I would recommend to book to anyone who has a love of history and paranormal mystery!"
To see this review on Amazon, click here.