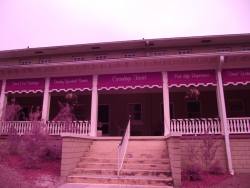 Paranormal Cassadaga, Florida: A Spiritualist Community
A guest post by Mary Jo Fister and Greg Bush from Offthetrails Paranormal investigations.
Cassadaga is a spiritualist camp near Deland, Fl. Founded by George Colby in 1894, Cassadaga is rich in psychic medium history. The original hotel burned down in 1926, and the present hotel was built in 1927. Many, many people have stayed through the years, and some have returned to stay forever.
We did a joint investigation with American Ghost Adventures. This trip the team consisted of Greg, MaryJo, and our two new members Angel and Rob.
During the early part, we had some activity, but very little. We initially contacted the ghost of a little boy, but then lost the connection. It was disappointing.
We made some other attempts in other rooms, and then went to where Angel and Rob were staying. With us were Brian and Chris. This was a remarkable session!
We gleaned much information. By positioning three flashlights on the bed, we were able to communicate with the spirit of a Mr. E! The lights are turned on by twisting the top. We twisted almost to the point of turning them on, but not quite.
As we took a moment to chat, Greg commented that the hallway was noisy. The light went on, alerting us that the spirit agreed!
We asked it to turn the light off now and the light went off. We asked that if the answer to the question was "yes,' "Would you turn on the flashlight?" We then asked many questions. "Are you a man?" The light went on. Chris called him "buddy" and the light went off.
We sensed that the spirit wasn't pleased with the term. We asked, "Should we call you sir?" and the light went back on.
We proceeded to the alphabet game. Does your last name begin with an A? B? C? When we got to E the light went on. We continued in this vein, discovering that he stayed at the hotel in 1929 while in his 50s.
He told us he had a wife, a son, and a daughter. He was vague about his reason for being there. This made us wonder! When we asked about prohibition, he let us know he didn't like it.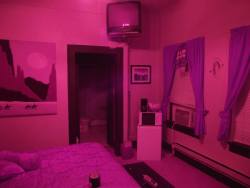 However, he didn't seem to be a drinker, allowing the flashlight to stay dark while we asked, "Do you like wine? Brandy? Beer, Cognac? And so on. When we mentioned WWII, all 3 flashlights were turned on! That seemed to make an impression on him, and his response impressed us?
As we continued with our conversation, we asked him what kind of car he drove. We mentioned many American makes but had no light. Then Angel said that she didn't think he was American. Are you English? German? French?" The light went on! "Where in France? Paris? Normandy?" It was Normandy.
He died in his 70s. Eventually the light stopped turning on, and we realized we had probably exhausted Mr. E. On a future visit, we hope to discover his name and more about him.
We decided to check out our room next. We used the same method to converse.
The entity in our room was a girl or woman named Agatha. She is there looking for her sweetheart. Her father worked in town in the 1940's as medium, and her sweetheart lived in Cassadaga.
When we questioned her further about her love, and how she died, she became quiet. More noise in the hall seemed to upset her, as she wouldn't communicate until it was quiet.
When asked how she died, sickness, accident, murder or suicide, she didn't answer. Finally we realized that she didn't like our questions and had left. Again, we hope to find out more about her on another visit. This was a very exciting experience, and a wonderful introduction for our new team members, Angel and Rob!
None of the spirits at the Cassadaga Hotel are thought to be unfriendly or demonic. At no time did we feel threatened or in danger. Spirit activity is unusual. The hotel is listed in the National Register of Historic Places.
The hotel offers a restaurant, bar, and readings. Offthetrails visited the camp sometime ago, and has it on our travel website under East Central Florida. http://www.offthetrails.com/the-backroads/our-florida-backroads-adventure/east-central-florida/
Click here for the Cassadaga Hotel video # 1
Click here for the Cassadaga Hotel video # 2
Click here for the Cassadaga Hotel video # 4
Click here for the Cassadaga Hotel video # 5
Click here for the Cassadaga Hotel website
Click here to visit Offthetrails Paranormal Investigations