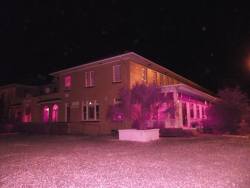 Paranormal Cassadaga, Florida: A Spiritualist Community
A guest post by Mary Jo Fister and Greg Bush from Offthetrails Paranormal investigations.
We were so thrilled with our experience at Cassadaga Hotel that we returned for a second venture.
We had many experiences! We were in rooms 1,2, 6 and 10. We also spent some time in the dining room. We had our best results with the ovilus (ghost box recorder), thermal camera, still camera, flashlight, and video camera.
In Room 1, we connected, via the flashlight method, with a spirit who said she was a two year old girl. We asked her to turn on the flashlight if her answer was yes, and to leave it off if her answer was no.
She told us she liked candy. The word "rabbit" came through on the ovilus several times, so we thought she may have had a pet rabbit. However, as we asked questions, we discovered that she had a stuffed, toy rabbit. She seemed to be a very smart two year old!
In Room 2, we again contacted "Mr. E" who we had spoken with before. Again, we used the flashlight method. The first time, we understood him to say he was French, but this time, he told us he was from Africa.
In Room 6, a smoking man is often seen. While we didn't see him, we did capture an image with the thermal camera that is clearly three dimensional. There was no one that we could see.
Rob stretched out on the bed, and then took a photo of where he had been laying. It's not three dimensional! You can clearly see the difference!
In Room 10, we met someone who told us he/she was in the military, and nothing else. The flashlight was our communicator. We spent some time trying to get more information to no avail.
In the dining room, our video picked up the sound of young children playing, although there are no children in the hotel, nor were any outside. One of our static night vision cameras picked up what appears to be intelligent energy orbs on three separate occasions.
The ovilus spoke many words, including "Africa, medal, and green." These words complement what we learned. Other words, such as "Pluto" left us perplexed. I thought maybe the little girl named her toy rabbit Pluto, but she said not. We also noticed that while communicating with the flashlight, the ovilus was quiet.
We are hoping to return again to the hotel to learn more about their "guests."
Click here for the Cassadaga Hotel video # 1
Click here for the Cassadaga Hotel video # 2
Click here for the Cassadaga Hotel video # 3
Click here for the Cassadaga Hotel video # 4
Click here for the Cassadaga Hotel video # 5
Click here for the Cassadaga Hotel website
Click here to visit Offthetrails Paranormal Investigations