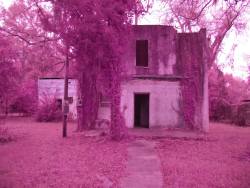 Paranormal Trenton, Florida
A guest post by Mary Jo Fister and Greg Bush from Offthetrails Paranormal investigations.
Off the Trails Paranormal Investigations Team – Greg, Will, Angel, Rob, and myself – found the old jail extremely active the night we investigated! Janelle showed us around and was there with her team, Old Gilchrist County Jail Ghost Hunters, inlcuding owner, Arlene Hale.
The jail and house are located in Trenton, Florida. It's between Chiefland and Gainesville.
After we had the tour and were shown the hotspots, we started our set up. We took our baseline K2 readings, Mel Meter readings, shot some photos, and set up our headquarters in the living space of the house. Windows are broken, there is no electricity or water, plumbing pipes have been pulled out, there are lots of spiders, and ceilings are fallen in. It is creepy!
The jail was built in 1928, and the house in 1966. The house was only used for two years before the jail was abandoned for the new jail. Up until that time, the inmates were alone during the night.
A deputy and his family occupied the three room house to provide security. During the time the jail was used, two sheriffs and one deputy that we are aware of were killed in the line of duty! A young drug dealer was also killed and his body was hidden in the abandoned jailer's home until the killers could dispose of his body.
From the beginning, we had verbal activity, the motion detector went off, and there were orbs that seemed intelligently mobile.
While Angel supervised the DVR system, Greg, Will, and Rob took photos and EVPS. I started with videos, but when Greg had success with the ovilus (ghost box recorder), I began to work with him in the living room.
We asked who we were communicated with, and were given the name "Slaughter" one of the sheriffs who was killed. He died in 1934, shot by 3 unidentified men during a robbery. While much of what we heard that night is subject to interpretation, much of it was clearly heard by all of the team.
This was the first time we used this instrument, and we will, I hope, improve our listening with practice. Slaughter mentioned "Sunday, church, Jesus." He also said, "Lent" which leads us to think he was religious. He told us that he was shot, and said the words "pain", "assaulted," "table", and "died".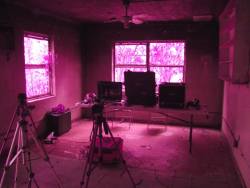 We asked him about the afterlife and his answer was "Boring." I took the ovilus then and went to various other rooms – the cells, kitchen, halls, and bedrooms. The spirits who talked to me were intelligent. I asked "What do you want to talk about?" and the answer was "You." So I said I was a teacher in middle school an taught history and geography. The response was "Teacher."
A car drove by with loud music playing. I asked, "How do you like that music?" The answer was, "Alright."
We think it was Slaughter who told us there were 15 men in a cell! In one of the cells, a spirit told me to "Run! They hate!" Twice! He said his name was Thomas Padgett. I asked who hated and why should I run, but got no response.
Another told me her name was Sally. There were women there, too. Robert, another prisoner, spoke with me. He was in an upper cell, along with prisoner Frank. But he wouldn't speak with Rob.
When Will came in and sat with me, the conversation stopped, but when he left, the spirit resumed talking. I told him that wasn't very polite, and the answer was "Sorry!"
The word "send" came up several times, along with "letter", "wife" and "sundries." Someone told me that "Irvin" was a traitor. "He left me," said the voice. Someone also told me to use a Thighmaster, and said it was hard. We all laughed at that! Sense of humor!
I was able to converse briefly with "Black" the young drug dealer whose body was hidden in the empty house. His sister had visited recently and he indicated that he was glad she was there and glad that we were there, too.
Greg used the flashlight technique and was able to have a short conversation with a male prisoner of the 1920s and 30s. He was under the age of 20. He was there between 5 and 10 years. Either a first or last name begins with "A." He lived in Trenton.
Our batteries were constantly being drained! I changed my video camera batteries four times! Finally, we just ran out of batteries and had to call it a night! As we left, I told the spirits I had been speaking with that we had a wonderful time and thanked them for talking with me. A voice said, "You're welcome!" The responses were always intelligent in answer to my questions.
The Old Gilchrist County Jail Ghost Hunters sat across the walk from the jail the entire time we were there and even checked on us. Afterwards, they showed us how to use the dowsing rods, a tool we are definitely interested in trying out more.
Our team would visit again if we have the opportunity. It's rare we can all get together, and there was so much communication with the spirits!
Click here for the Old Gilchrist Jail video # 1
Click here for the Old Gilchrist Jail video # 2
Click here for the Old Gilchrist Jail video # 3
Click here for the Old Gilchrist County Jail website
Click here for Old Gilchrist County Jail Ghost Hunters
Click here to visit Offthetrails Paranormal Investigations