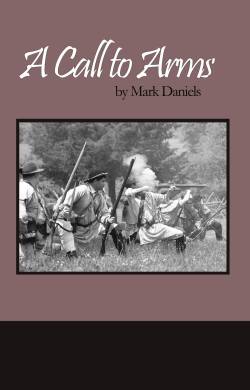 A Call to Arms
A book review
Author: Mark Daniels
Publisher: Paperclip Publishing
# of pages: 248
A Call to Arms is one of those very authentic books that pulls you directly into a particular period of history. In this case, it is 1757 and the onset of the French and Indian War. The setting is a rural village in the English colony of Massachusetts. Benjamin Hewes and his family are the focal point of this story as they bravely face the challenges brought to their very doorstep by conflict between England and France.
Using documents from his own family history in that same region and time, Mark Daniels beautifully brings his characters to life. His book not only sheds great light on the living conditions and customs of the day but it also allows the reader to enter the mind of a farmer caught between the competing needs of his family, his small town and his colony. This is a wonderful story of duty, faith, friendship and love.
A Call to Arms, in its entirety, is an excellent foreshadowing of the larger war yet to come, the American Revolution. Mr. Daniels next book, A Call to Liberty, will no doubt plunge readers into that conflict as well and do it with the same authenticity as A Call to Arms.
I note that the author is a reenactor who brings his character, Ben Hewes, to life in a variety of settings. If, at those times, he infuses himself with the depth of character he describes in his book, his audiences are definitely in for a treat.
I recommend this book for young adult and adult readers.
To see this review on Amazon, click here.