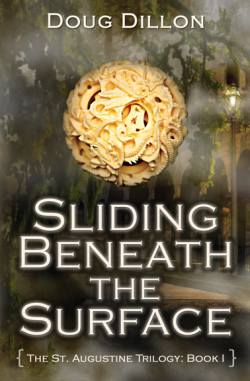 Sliding Beneath the Surface
The St. Augustine Trilogy:
Book I
A review placed on Amazon by Justine.
"I have had this book on my kindle for awhile now just waiting for when I had time to finally pick it up and read it.
"I did really enjoy this book. I haven't ever read anything quite like it. I'm having a really hard time putting it into words right now.
"It's like a paranormal, time- travel, ghost, historical fiction bundle of awesome. It's a book that really makes you ponder what the author has said. Could what happens in the book actually happen? Doug Dillon did such a detailed job I'm really starting to wonder.
"By reading this novel I could really tell how much research the author must of had to do to get everything just perfect. Plus I really liked reading about all of the history.
"Jeff was a great main character to read about. I just wished that we had learned more about his past. Also I hope we can meet his dad in one of the books. And maybe his deadbeat mom will make an appearance.
"Carla was also fun to read about, but I want to meet her grandmother.
"Then there is Lobo. He was the most intriguing character by far. He was full of mystery but at the same time held all of the answers.
"I will be continuing on with this trilogy. It was well written and held my interest, I would recommend it to readers young and old. I feel like both would gain from reading this story."
To read this review on Amazon, click here.