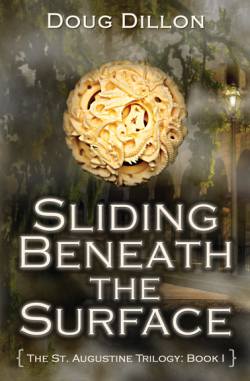 Young adult, paranormal & historical
 The St. Augustine Trilogy:
Book I
A review by Sabrina Nedelea from Romania placed on her book blog and on Amazon.com.
"The book Sliding beneath the surface it's an unique paranormal story, filled with amazing details that you rarely find in a book. I started to connect with the characters from the first chapters, wanting to know more about them.
"Jeff Golden moves to Florida and goes threw a lot, he starts having terrible nightmares and awful headaches. Jeff it's luck enough to meet Lobo, a man who it's going to help him figure what's happening.
"You definitely need to read this book to understand the story and live at the same time with the characters.
"Doug Dillon did an amazing job with the book. I highly recommend it!"
To see this review on Sabrina's blog, click here.
To see this review on Amazon, click here.